The History of Your Family Name Over 800,000 Names Available in our database!
At Irish Eyes of Va. you can get the most comprehensive search for the origin of your family name, in minutes. With a database of almost one million names, of many nationalities, your search is simple. Each parchment comes with a full color Coat of Arms. If your name is Irish you will find the spelling in Gaelic and how the name evolved. We will explain how name spelling changed over the centuries and where the family originated and who those people were, Celtic, Viking, Norman or other. They include an early account of where the family may have occupied a castle or manor house or outstanding accomplishments in history. These histories are so detailed they even include many of the first of your name to make it to America, their point of entry and the year.
11″ x 17″ Framed Family History – almost one million names to choose from – 1800 words with detailed description of where your ancestors came from early times till their arrival in the United States with point of entry and the year. Framed in a Red Cherry wood frame: $69.99 Free Shipping anywhere in the U.S.
Available just printed on acid free parchment mailed in a tube roll
Just $19.99​!
Call 540.373.0703 to purchase!​
22″ x 24″ Masterpiece Framed Family History – with 8″ x 10″ Embroidered Coat of Arms over 70,000 stitches on black felt, something that will proudly display your heritage in your Castle home Antique Gold Gilt Frame
$224.99
​Call 540.373.0703 to purchase!​
22″ x 26″ Wedding or Anniversary Double almost one million names to choose from – Both His and Her Family Histories with full Color Coats of Arms with the Wedding Date underneath. Double mat in an Antique Gold Gilt Frame.
$189.99
​Call 540.373.0703 to purchase!​
11″ x 17″ Wedding or Anniversary Double almost one million names to choose from – Both His and Her Embroidered Coats of Arms with the Wedding Date underneath. Double mat in a Red Cherry Wood Frame $189.99
​Call 540.373.0703 to purchase!​
Embroidered Polo Shirts available in Green, Navy and White with your Coat of Arms Embroidered sizes small thru XXX-Large
100% combed ringspun cotton
No-pill, no-shrink, no-fade, no-curl collar, no-wrinkle performance
Two rows of contrast tipping on collar and cuffs
Striped neck tape
Side vents
Relaxed fit
Only $59.99
Call 540.373.0703 to purchase!​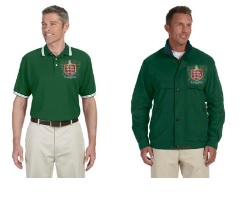 Embroidered Jackets available in Green and Navy with your Coat of Arms Embroidered sizes small thru XXX-Large
85% polyester, 15% nylon
Water-repellent, wind-resistant
Snap storm placket over the full-zip closing and elastic waist
Vented yoke adds breathability and allows for easy embroidery access
Inside zippered security pocket
Contrast color in lining and collar
Only $69.99
Call 540.373.0703 to purchase!​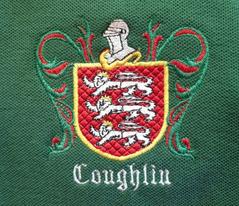 Sterling Silver Coat of Arms ring, Heirloom quality made in Dublin and inspected in Dublin Castle Assay Office before delivery to you.
Only $350!
Call 540.373.0703 to purchase!​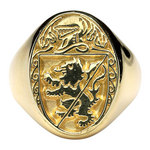 We also carry a large assortment of Heraldic Keychains, Lapel Pins, and embroidered patches with hundreds of Irish and Scottish names. We offer these parchments in a poly protective sheet or we will frame them in minutes.
Your Coat of Arms ..
A Family Heirloom made in Ireland and inspected for quality at Dublin Castle. Available in Gold or Silver.
From the dawn of history, long before man could read or write he used symbols and emblems to convey his ideas. The Old Celtic cland used a system of colours to indicate social and political standing. Heraldry, as we know it, came into existence during the twelfth century. An instantly recognizable device to distinguish friend from foe was required at this time, due to the introduction of coat mail, which covered combatants from head to foot in grey steel. Colors were painted the shields as to be easily recognized at a distance.
Available at Irish Eyes of Va 725 Caroline St, Fredericksburg, Va 22401 540-373-0703
What's In a Name?
The Celts came to Ireland around 1600 B.C. King Mileius of Spain sent his four sons to conquer an island to their north-west in the Atlantic. His four sons, Heremon, Heber, Ir and Ith, overran the Tuatha De Dannan. They divided the island amongst themselves and in the following centuries each clan grew in numbers and strength. The celts had no written history. Each of their Chieftains ruled their domain under a set of rules called the Brehon Laws. Every three years there was a great Feis held at Tara. Here the chieftains from each clan would gather to celebrate. Great banquets were held. They were pagan and honored their gods. Music was a focal part in all their celebrations, as was an exhibition of the skills of their warriors. Each Chief, had in his court, a druid and bards, who having studied 20 years were the Kings advisors.
The bard committed the Kings Royal Lineage to memory and would recite the record for all in attendance. Tara became the capitol (in a manner of speaking) and the King in residence here was respected as High King. Meanwhile to the north
was another seat of power and influence, located at Eamhain Macha. As their power increased so did the rivalry between these two rulers. The descendants of Heremon reigned to the north and the descendants of Ir reigned to the
south. By 327 A.D. this rivalry erupted to a conflict and 350 chieftains, the descendants of Heremon were expelled from the island and fled to the west of Scotland. They were known as the Dalridians, who brought with them the name Scotia – what we call today Scotland. Back on the old sod the remaining territory was ruled by the descendants of Ir – hense Ir-land or as we know it today IRELAND.
About 100 years later St Patrick came to Ireland. Ireland was still a pagan country. St. Patrick brought Christianity to Ireland and converted the native population. He founded many churches and eventually his converts would establish monasteries throughout the land. These monasteries were centers of learning and hospitality. They cared for the spiritual and physical needs of their congregations. The monks developed their skills in art and writing as found in the Book of Kells and other manuscripts of that period. They also developed their skills in metalwork, making beautifully ornate works like the Ardagh Chalice. Many monks moved to the continent and helped establish monasteries there that came to be regarded as a significant contribution to the culture in Europe that is still evident to this day.
By the year 1002 Brian Boro had established himself as Ard Ri (High King) and in an effort to finance his campaign decided to levy a pol Tax (the first Income Tax of sorts) The populous was required to pay a tax on their possessions, typically their livestock. At this time people only had a first name or a nick name. As you can imagine if we had four Pats in a village there was a problem identifying who paid their tax and who had not.
The choice to create a surname was a simple solution and the surname could be derived from : who you were descended from, what you did for a living, where you lived or maybe some physical characteristic. Pat McCormac was the son of Cormac or Pat O'Connor was the grandson of Connor. Pat MacGabhain was the son of the blacksmith since "Gabhain" was the gaelic for blacksmith. The Malley surname wad derived from the gaelic word "Maoile" which means "by the sea" . Finally we come to the physical characteristic as in Sullivan, derived from gaelic "Suil abhain" meaning "one eye". Since there were no rules for spelling for several more centuries…..the spelling for each name was left to the cleric or scribe, who spelt it as it sounded to him. This resulted in a barrage of spellings for names like Reilly, Rielly, Riley, Rilea and so on. People now had an identity and often a mistaken identity.
In the 12th Century the Turkish Knights were reeking havock with pilgrims to the Holy Land. Knights from Western Europe went on the crusades to protect the faith. The Western Knights suited in armor from head to toe were indistinguishable. They noticed the Turks painted their shields and created an identity for themselves as the White Knight or Red Knight and so on. On returning home from the crusades the Western Knights began to follow this custom of painting their shields. Soon there was much confusion with identity as only seven colors were used in heraldry. The Idea of partitions on the shields – chevrons, quadrants, chiefs, fesses and bends were all introduced as options to create a unique design or identity.
By the 14th century charges (lions, griffins etc) were added and the College of Heraldry introduced that "only persons of character" were entitled to a Coat of Arms. This opened the floodgates for everyone wanted to be recognized as a persons of character. In addition applicants could assist in the design of their own arms. Not all applications were approved often because of the content of the design. However having our own Coat of Arms, in addition to being a status symbol, it was an identity that was uniquely yours. Today most Irish Families have a Coat of Arms. While it is not a design that is uniquely your own, it is a symbol of family pride and heritage. Take the time to research your Family Coat of Arms. The ancient Brehons had a fierce sence of family pride It is a Brehon trait in all of us.