11 Great St. Patrick's Day Apps
Drunken leprechaun "Shamus McDerp" and the St. Patrick's Day Drunk Lep app aside, there are a number of great Paddy's Day apps out there, ranging from delightfully silly to informative and useful.
Antique St. Patrick's Day Postcards
Want to send out some classy St. Patrick's Day greetings? The Antique St. Patrick's Day Postcards app offers over one hundred downloadable antique postcards from Victorian-era Ireland to Post-War America. Just select, download, add a message, and send some Irish cheer to your friends and loved ones. Available for $1.99 via iTunes.
St Patrick's Day Recipes
Whether you're cooking for yourself or a whole party, the St. Patrick's Day Recipes app has great suggestions for everything from appetizers to dessert. Best of all, it's free. Available via iTunes and GooglePlay.
Collins Pocket Irish Dictionary
With 47,000 references and 69,500 translations, Collins Pocket Irish Dictionary is a great tool for Irish language learners. The app includes a "fuzzy filter" for when you're not sure exactly how a word is spelled, the option to add a Word of the Day widget to your home screen, and other useful features. Not sure if you want to shell out $9.99 for the full version? Collins also offers a free trial version. From GooglePlay and iTunes.
Irish Leprechaun Fun Pack
A fun one to get the kids in touch with the Irish spirit. The Irish Leprechaun Fun Pack features a hand-illustrated leprechaun, leprechaun jokes, a game to see who can say "Top of the mornin' to ya!" in one breath, and a variety of other activities. $0.99 on GooglePlay.
St. Patrick's Day Live
Worried about missing out on the celebrations? St. Patrick's Day Live brings you all the March 17 craic from the NYC St. Patrick's Day Parade and Dublin's Temple Bar via live cam. $1.99 via iTunes.
Celtic Knots
84 gorgeous Celtic knots are waiting for you to put them back together! With three levels of difficulty and a high score tracker, this puzzle game is fun for all. In the iTunes app store for $1.99; a free version with ads and fewer puzzles is also available.

Father Ted Soundboard
All of your favorite Father Ted sound clips, sound effects, quotes and themes in one place! You can play them just for fun or for conversational emphasis, or take the best lines from Father Ted, Father Jack, Mrs. Doyle and all the rest and set them as your ringtone or alarm. Check it out in the GooglePlay app store.
Get the Focal
An Irish language translator app, Get the Focal includes an online search with results from the O'Dónaill dictionary, over 200,000 terms from the national terminology database at www.focal.ie, full sentence translation from Google translate, and pronunciations on demand from abair.ie. To learn a random Irish word, simply shake your phone. From the iTunes app store for $3.99.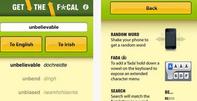 St. Patrick's Day DuckyTube
A favorite among parents of young children, DuckyTube apps let you create a safe stream of YouTube videos for your child to watch. For St. Patrick's Day, they've released a special version that comes pre-loaded with Riverdancing bears and the fun Irish cartoon Grabby. Add or delete videos from the stream using controls only adults can access. Free from the iTunes app store.
Erin Go Bragh
Who doesn't love a good Irish blessing or some words of wisdom? The Erin Go Bragh app offers a vast array – simply tap the screen or shake your phone to reveal a new saying. The graphics are a little simplistic, but as one reviewer wrote, "Tis alright, god bless it." Free from GooglePlay.
Irish Slang Dictionary
This is the app for anyone who has difficulty navigating the colorful world of Irish slang. Any use? Definitely. Available in the iTunes app store for $0.99